You don neon & take on the Ignite Walk

You change the lives of people living with cerbral palsy
What to expect from this year's Cerebral Palsy Alliance Ignite Walk!
The Cerebral Palsy Alliance Ignite Walk is excited to be running two new courses this year:
5km Family Friendly Bridge to Bridge course - start time of 7pm.
Half Marathon (21km) Dusk to Dark course - start time of 4:30pm.
The half marathon walkers will join up with the other Ignite Walkers and complete the last 5km together ensuring we really Ignite Canberra!
ON THE NIGHT
Registration opens at 3:30pm - bring your registration ticket (which will be emailed to you on Friday 6 April) and head over to our friendly volunteers at the registration tent to collect your bibs, flashing head boppers and any fundraising rewards you have won.
The Cerebral Palsy Alliance Ignite Walk will kick off with a Neon Ignite Party starting from 4pm at Patrick White Lawns. Grab a bite to eat from the food stalls, indulge in some glow in the dark fairy floss and get your face painted with neon, glow in the dark face paint! Check out the official Ignite Walk merchandise and purchase a show bag which includes loads of neon glow in the dark goodies to light you up around the course.
When you cross the finish line you will be greeted by our cheer squad and we will all celebrate together with a MASSIVE AFTER-GLOW PARTY!
Registration on the night: You need to pick up your bib at least 30 minutes before your start time, which are as follows:
There will be a Zumba warm up for each group, 15 minutes before your start time so make sure you are there to join in the fun!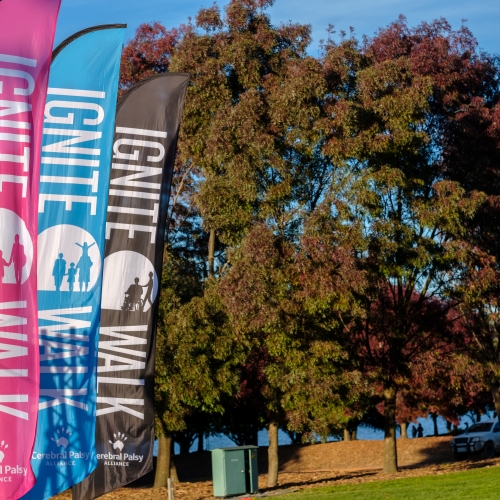 Plan your journey
Start line: Patrick White Lawns
Parking: There is plenty of parking at Questacon and the Library carpark, which are adjacent to Patrick White Lawns and it's all free!!
Facilities: At the Neon Ignite Party you'll find toilets, first aid, refreshments, merchandise stands and a registration stand to pick up your bib.
What to bring:
Lights, bright colours, glow in the dark accessories and neon face paint to Ignite Canberra!
Warm jacket
Additional layers
Hat / gloves / scarf - try and find the brightest colours possible!
Water bottle – there will be plenty of water stations to fill up around the course
Money – we will have lots of merchandise and refreshments for you to buy on the night
Training: Download celebrity trainer Lee Campbell's awesome skipping routine created just for our Ignite Walkers!





Power Walker: Less than 1hr
Strider: Less then 1.5hrs